Description
All classes are taught by K.P. Khalsa, Yogaraj (Ayurveda), A.D., D.N.-C, R.H. Your instructor has over 50 years of experience training Ayurveda practitioners and is one of the most well-regarded natural healing and wellness teachers in North America.
All classes are pre-recorded.
---
What is the Ayurveda Health Counselor Program?
This one-year training program will give you a solid education in the ancient science of Ayurveda with a modern approach that you won't find anywhere else. Students who complete the entire program will earn an Ayurveda Health Counselor Certificate from International Integrative Educational Institute (IIEI). Your instructor K.P. Khalsa, Yogaraj (Ayurveda), A.D., D.N.-C, R.H., is one of the most well-regarded teachers of holistic medicine in America and brings over 50 years of experience incorporating Ayurveda into modern life.
With a surge of popularity over the last decade throughout the greater U.S. and Europe, Ayurveda is quickly becoming a common idea in many Westerners' minds. Based on its 5,000+ years of rich tradition, the knowledge Ayurveda offers is like an abundant well in the arid desert of western culture and shows no signs of drying up.
A sister science to yoga, Ayurveda is the science of life. It's a perspective on how to understand the world and everything in it. Understanding Ayurveda's most fundamental principles can give you a tremendous advantage in looking at life and health.
For those who want to take this one step further, K.P. Khalsa at International Integrative Educational Institute has developed the Ayurveda Health Counselor Program to certify Ayurvedic health counselors.
Is the AHC program right for me?
This program is perfect for:
Individuals who wish to start a new career as an Ayurvedic Health Counselor
Professionals who wish to incorporate Ayurveda into their current practice: naturopathic physicians, medical doctors, herbalists, nutritionists, yoga teachers, nurses, acupuncturists
Persons who wish to use Ayurveda as self-care or to care for family and friends
Need Flexibility? The AHC program is designed to offer maximum flexibility for your schedule. All classes are pre-recorded, so you can learn when it's convenient for you and at your own pace.
---
What Will I Learn?
In this one-year comprehensive training program, you will take an Introduction to Ayurveda class plus 12 in-depth courses offered in a series of 4 terms. In each term, you will complete 3 courses. Students who complete the entire program will earn an Ayurveda Health Counselor Certificate from IIEI. All students will start with Term 1 and the introduction course.
Introduction to Ayurveda Course 
This course will be added to your account for free upon registration for Term 1. This is a pre-recorded, self-paced course that offers a broad overview as well as a solid groundwork to jumpstart your journey into the ancient practice of Ayurveda. This is where all new students will start their learning!  The Introduction must be completed before the end of the term.
Term 1 Courses
Systems Organization and Activity in Ayurveda
This course introduces the basic notions of Ayurvedic body structure. Students will also learn the principles of Ayurvedic body functions, including properties of Dosha (energetic principles), Dhatu (tissues) and Mala (waste products).
Evaluation and Disease Progression
The emphasis of this course is Ayurvedic constitutional assessment. Students will also learn how to evaluate individuals, including their constitution and the current state of their body's energies. The course will embrace determining the ideal lifestyle and therapeutic program for an individual. This course will include tongue observation skills, along with palpation, voice and Ayurvedic energy point ideas.
Cooking, Food and Herbs
The Ayurvedic cooking course teaches the basics for constitutional balance and prevention and treatment of imbalances, using food and culinary herbs. Fine-tune your skills with Ayurvedic household recipes, healing preparation methods and the use of spices and oils for healthy cooking.
Term 2 Courses
Diet and Nutrition
Ayurvedic nutrition includes eating habits, the energetics of food, proper food combining, and the Ayurvedic view of nutritional components. Study the use of foods for health, diets for doshas, and individual approaches to healing diets.
Life Practices and Regimes
This course explores lifestyle practices, sleep, stress management, personal habits, behaviors, exercise, daily and seasonal routines, relaxation, meditation, relationships and goals for a healthy life. In addition, students will discover counseling techniques to help clients maintain a balance of mind, body and awareness through proper lifestyle choices.
Ayurveda Herbal Therapy
Ayurvedic herbalism will focus on the exceptional principles of Ayurvedic therapeutics. Students will study the qualities, actions and therapeutic characteristics of herbs, foods and other natural therapeutic substances. This course looks at herbal qualities, Ayurvedic preparations, energetics, plant chemistry and clinical indications for herbs in supporting healthy body functions.
Term 3 Courses
The Mind in Ayurveda
The Mind in Ayurveda course and interviewing skills, including client behavior, listening, objective questioning, appropriate boundaries and motivational interviewing presented from the context of an Ayurvedic psychological overview. The Ayurvedic concept of structure and function of the mind is a large part of Ayurvedic counseling.
Client Procedures
This course will focus on Ayurvedic assessment skills for accomplishing multi-faceted investigations, including interview techniques, physical exam, lifestyle, protocol development and client adherence concerns.
Ayurveda Energetics in Disease
This course covers the Ayurvedic approach to disease and pathology evaluation and support, including dosha imbalance and inherited, constitutional and seasonal causes of disease for selected body systems.
Term 4 Courses
Wellbeing and Illness in Ayurveda Energy Systems
This course will introduce the concepts of Ayurvedic body structure, including a profound understanding of the doshas, with an emphasis on organs, systems, nadis and srotamsi (body energy channels). Explore the wisdom of the three higher energetic attributes (Satva, Rajas and Tamas) and how each affects the workings of the mind. Also included will be Agni (Fire), types, function, role in health and disease and Ojas (Natural vitality, vigor, and immunity), its function and signs of balance or imbalance.
Integrative Ayurvedic Therapies
This course will cover Yoga philosophy, yoga therapy, yoga beyond exercise and the fundamental goal of yoga. Students will experience an understanding of the effect yoga has on the doshas, body energies and functions. The focus is on the Ayurvedic approach to yoga for health and constitutional balance. In addition, the course will include Sanskrit phrases and mantras in translation, interior design, outdoor living environments and introductory conventional medical perspectives.
Disease Development Process in Ayurveda
This course covers disease pathology in the Ayurvedic setting—the stages of disease (such as accumulation, aggravation, and overflow) for selected body systems. Students will study several diseases of various body systems and Ayurvedic methods for establishing health.
What Does It Cost?
Cost Per Term: $1999 $1500 (Discount Applied)
About Your Instructor, K.P. Khalsa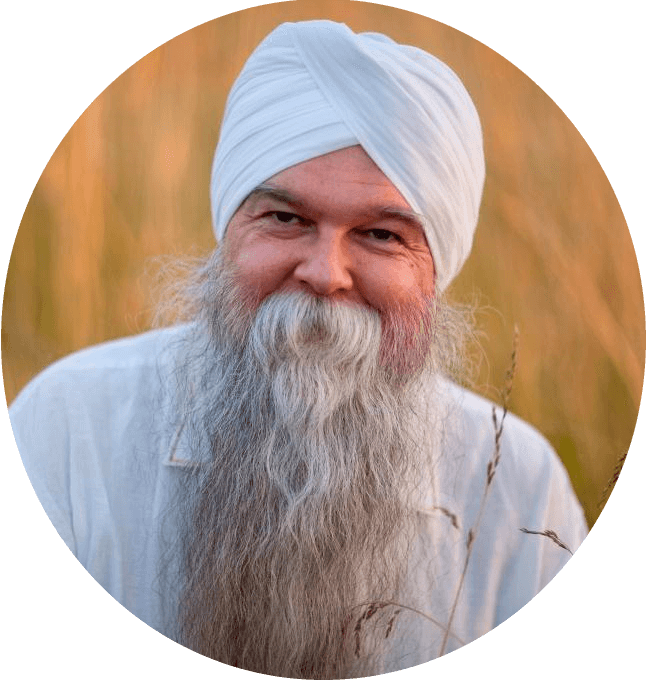 With over 50 years of experience incorporating Ayurveda into modern life, K.P. Khalsa is one of the most well-regarded teachers in America.
"Karta Purkh Khalsa can accurately be described as one of the most influential teachers and practitioners of botanical medicine of our time. His breadth and depth of learning and experience encompass classical Ayurvedic and Chinese medicines, European herbalism, modern Western science, yogic practices and physical therapies." -David Crow, LAc, Floracopeia Founder and President, author of In Search of the Medicine Buddha: A Himalayan Journey.
"A spirited speaker who has the ability to engage his audience, Mr. Khalsa offers a simple approach to understanding complex topics. From botanical medicine to Ayurveda, his audience can expect to return home with a plentiful array of clinical pearls." -Dr. Margrit Mikulis N.A.M.A. President (N.A.M.A. is National Ayurvedic Medical Association)
"As chair of the botanical medicine department at Bastyr University, it has been my great fortune to secure Mr. Khalsa as adjunct faculty in my department. His commitment to high-quality education and his communication skills within the classroom and as a colleague and faculty member make him an invaluable member of our teaching team." -Robin Dipasquale, ND Chair. Botanical Medicine Department Bastyr University
"He has been described by his students as a "world-class teacher" who is "very knowledgeable, well organized, experienced, dedicated, possessing a wealth of knowledge and a great love for his students as well as the subject matter." -Traci Webb, President and Director, Northwest Institute of Ayurveda.
"Students have confidence in his teaching and are excited to return term after term. Further, K.P.'s personal style and relationship-building skills foster a safe learning environment for his students that encourages out-of-the-box thinking." -Sheila Meserschmidt, Director, CLIMB Center for Advancement The CLIMB center is part of Portland Community College.